Meet The New iPod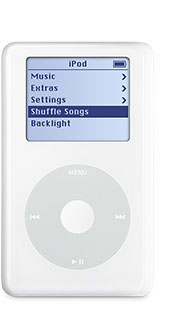 What is new on the new iPod?
The click wheel
More efficient menus
New features
Longer play
Lower price
Color…well…
The fourth generation iPod
 is on the market. The new iPod operates much more efficiently, has more features and costs less! It also looks a bit different; it has gotten slimmer, and more sleek. This one is about a millimeter thinner.
The control buttons that used to be under the display screen have been eliminated. Now they have a click wheel and the controls are placed on the compass points on the circular touch pad so you can scroll through the menus. The idea actually came from the Mini iPod
. On the mini there just wasn't enough room for the buttons. "But the minute we experienced it we just thought My God, why didn't we think of this sooner?" says Steve Jobs.
This new iPod is more efficient: there is less thumbing to find your favorite music. The first level entry is music, and now one click starts the popular method of shuffling your library to playback.
Included in the new features is multiple on the go play lists and you can delete songs from ad hoc mixes. Also, the audio books are not only easier to find but you can also listen to them at normal speed, slower speed, or twenty-five percent faster and it does not sound like you are in chipmunk land.
Because of a new conservation of power that Apple
 has created you can now listen to twelve hours of music before needing to re-charge your batteries. That is a fifty percent boost in battery lasting power.
All this extra stuff you get for a lower price! The 10,000 songs or 40 gigs runs for $399. And the 5,000 songs or 20 gigs now cost $299. That is a savings of $100. for each model since the last release. The 15 gigs are no longer available.
Color you ask? New iPod – now in living color